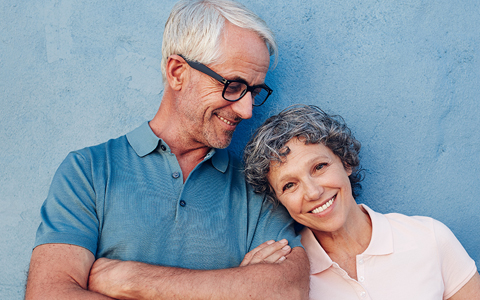 Life is all about those smiles, laughs, and conversations you share with the people around you. The people you love want to see you smile with confidence.
Our practice provides personalized denture services for our patients with missing teeth. We design unique dentures for each and every one of our patients, and we will ensure that they look good and feel natural. We even make it a priority to give you your brand new smile in just a couple of days, so you can get back to your best self as soon as possible!
What are Dentures?
Dentures are removable replacement teeth that can fill a full or partial arch.
Full Dentures | Full dentures are best for patients who have lost or extracted the majority of their natural teeth. Conventional full dentures are placed after the gum tissue has healed, while immediate full dentures are replaced right after tooth removal.
Partial Dentures | Partial dentures are for those patients who need to replace several teeth in a row but still have healthy teeth in their mouth. Partial dentures are attached to a metal frame that is connected to your natural teeth.
We even provide denture stabilization for the most secure tooth replacement option. If you are interested in implant-supported dentures, then you can read more on this page.
Dr. Barrows would love to help you determine which type of dentures might work for you.
Are Dentures the Right Choice for Me?
We offer more than one tooth replacement method here in Yuma. Dental bridges and dental implants are also options that can restore your smile.
The best way to find out if removable dentures are the right choice for you is with a consultation. Dr. Craig Barrows wants to get to know you and have a conversation about your hopes and dreams for your smile. We are always happy to answer your questions!
Expert In-Office Certified Lab Technician
Your new smile is just days away!
We carefully design your dentures so that they are perfectly matched to the size, shape, and color of your natural teeth. We want your dentures to look natural and fit comfortably. We also want them to enhance the beauty of your true smile.
Usually, denture production takes weeks, but we want to give our patients something better. Dr. Barrows is proud to announce that he has brought a certified lab technician right here to our practice. Your wait time will be minimal for your new smile. You'll see your brand new dentures in just a couple of days!
Let Us Restore Your Smile Here in Yuma!
You can contact us at our office to set up an appointment for your free consultation. Don't go another day without a beautiful and functional smile!