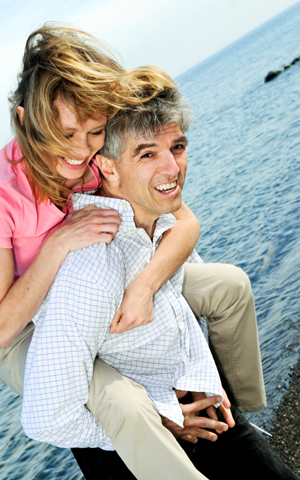 Dental implants can revolutionize your incomplete smile. If you're missing one tooth or many teeth, implant dentistry can renew your appearance and your oral health!
Missing teeth can cause chewing and speaking to become more difficult than ever before. Missing teeth can also dramatically increase your risk for jawbone deterioration, facial collapse, and a prematurely aged appearance. Perhaps worst of all, missing teeth can lower your self-esteem and make it difficult to smile or feel happy.
Dental implants can change ALL of that! We can place state-of-the-art dental implants that rival some aspects of natural teeth while giving lasting smiles to our patients.
Why Should I Choose Dental Implants for My Smile?
Patients choose dental implants because they:
Create an attractive and natural-looking smile after tooth loss.
Provide a lifetime solution for many people.
Renew your ability to comfortably eat a variety of foods.
End the bone loss caused by missing teeth.
Improve your confidence and self-image.
Give you a healthy smile that functions properly, allowing you to speak without difficulty.
Promote a youthful appearance by supporting the facial skin and muscles.
If you are a candidate for dental implants, the better question is: Why NOT choose dental implants for your smile?
Place and Restore Right Here
Dr. Craig Barrows will conduct an in-depth evaluation to help you decide if dental implants are right for you. He will present all of your options to you, with an honest analysis of the potential costs and benefits. He cares for his patients and wants them to find the best long-term solution possible.
The first step in the dental implant process involves inserting surgical-grade titanium posts into the jawbone. Many dentists send their patients away to specialists, but we conduct the surgery right here in our office. You'll be surrounded by the professionals who know you and care about you.
After your jaw has healed, Dr. Barrows will restore your dental implants with lifelike replacement teeth. We work hard to guarantee accurate results that exceed your expectations!
Get a Whole New Smile with Dental Implants Today!
Just call our office to schedule your consultation and learn more about dental implants today.